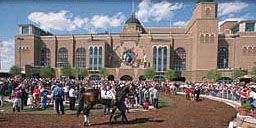 11 Stakes Worth $1 Million Highlight Lone Star Park's 2014 Spring Thoroughbred Meet
(Grand Prairie, Texas - Wednesday, January 22, 2014) - Lone Star Park at Grand Prairie announced the track's 2014 Spring Thoroughbred Season stakes schedule featuring 11 stakes, including two graded stakes, with purses totaling $1 million.
The two premiere events on the 2014 Lone Star Park stakes calendar are the Grade 3, $200,000 Texas Mile for 3-year-olds and up to be run Saturday, April 26 and the Grade 3, $200,000 Lone Star Park Handicap for 3-year-olds and up at 1-1/16 miles to be run Monday, May 26 (Memorial Day).

"We are very pleased to continue to offer an exciting stakes schedule in 2014 that ensures our overnight purse levels are maintained while continuing to offer our traditional graded stakes races," said Lone Star Park President and General Manager Scott Wells.

New this year will be the $50,000 Wayne Hanks Memorial Stakes to be run on Saturday, April 12. The race was formerly run as the JEH Stallion Station Stakes and is named after the longtime Grand Prairie Sports Facilities and Development Corporation member. Hanks passed away last fall.

Texas-breds and Texas Sale Graduates will be showcased in four stakes races Saturday, July 12 in the 14th annual Stars of Texas Day. The program will be highlighted by two divisions of the $100,000 estimated TTA Sales Futurity (2-year-old fillies and colts and geldings going 5 furlongs, the $50,000 Assault Stakes (Texas-bred 3-year-olds and up at one mile) and the $50,000 Valor Farm Stakes (Texas-bred fillies and mares, 3-years-old and up at 6-furlongs).

The return of the Global Gaming Triple, a three-race series linking the Grade 3, $200,000 Texas Mile, Grade 3, $200,000 Lone Star Park Handicap, and the $175,000 Governor's Cup for 3-year-olds and up at 1-1/8 miles at Remington Park in August, seeks to provide horsemen additional incentive to compete in all three stakes.

Global Gaming Solutions, owner of both Lone Star Park and Remington Park, will offer a bonus to be split equally among owner and trainer of the horse that accumulates the most points in the three stakes. A horse must compete in all three designated races to be eligible for bonus money, and points will be awarded to the first through third place finishers on a 5-3-1 basis.

"We are excited to continue the Global Gaming Triple linking our major races for older horses with the Governor's Cup at Remington Park," said Director of Racing at Lone Star Park, Bart Lang. "The series emphasizes the commitment from Global Gaming to improve the racing product at both tracks to benefit horsemen and fans."
Other key Spring Thoroughbred Season dates will be simulcasts of the Triple Crown: the Kentucky Derby from Churchill Downs Saturday, May 3, the Preakness Stakes from Pimlico Race Course Saturday, May 17 and the Belmont Stakes from Belmont Park Saturday, June 7.

Additionally, Lone Star Park has scheduled 50 live racing dates in 2014, the same as were run in 2013.

Lone Star Park's 50-day 2014 Spring Thoroughbred Season opens Thursday, April 10 and concludes Saturday, July 12. Live racing will be held four days a week with a first-race post-time of 6:35 p.m. for Thursday, Friday and Saturday night programs (except Thursday, May 29 when there will be no live racing), and Sundays with a first-race post-time of 1:35 p.m. (except Sunday, April 13 & 20; June 22 & 29; and July 6.) Live racing will be conducted Monday, May 26 (Memorial Day) with a first-race post-time of 1:35 p.m. A special twilight program will be held on Thursday, July 4 (Lone Stars & Stripes Fireworks Celebration) with a first race post time of 5 p.m. Lone Star Park also has an American Quarter Horse Season in the fall of each year from September through November.

Following is Lone Star Park's Thoroughbred Stakes Schedule for 2014:
| Date | Stakes | Sex & Age | Distance | Purse |
| --- | --- | --- | --- | --- |
| Thursday, April 10 | Premiere Stakes (TX) | 3-y-o & up | 6 ½ F | $50,000 |
| Saturday, April 12 | Wayne Hanks Memorial (TX) | F&M 3-y-o & up | 6 ½ F | $50,000 |
| Saturday, April 26 | Texas Mile-Grade III | 3-y-o & up | 1 Mile | $200,000 |
| Saturday, May 10 | Texas Stallion Stakes | Fillies, 3-y-o | 1 Mile | $75,000 |
| Saturday, May 10 | Texas Stallion Stakes | C&G, 3-y-o | 1 Mile | $75,000 |
| Monday, May 26 | Lone Star Park Handicap-Grade III | 3-y-o & up | 1-1/16 M | $200,000 |
| Saturday, June 14 | Lane's End Stallion Scholarship Stakes (TX) | F&M 3-y-o & up | 7 ½ F (T) | $50,000 |
| Saturday, July 12 | TTA Sales Futurity | Fillies, 2-y-o | 5 F | $100,000 |
| Saturday, July 12 | TTA Sales Futurity | C&G, 2-y-o | 5 F | $100,000 |
| Saturday, July 12 | Assault Stakes (TX) | 3-y-o & up | 1 Mile | $50,000 |
| Saturday, July 12 | Valor Farm Stakes (TX) | F&M 3-y-o & up | 6 F | $50,000 |