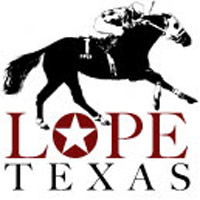 Houston Equine Research Organization's (HERO) Awards Grant to LOPE Texas
The Houston Equine Research Organization's (HERO) has announced that it has awarded a $14,000 grant to LOPE Texas to establish a surgery fund for adopted racehorses and facility upgrades.

HERO was established in 1994 as part of the debut Sam Houston Race Park, the first Class 1 racetrack in Texas. The not-for-profit organization's primary goal is fostering the welfare of all equine athletes through research aimed at preventing the conditions and injuries that may affect them. HERO provides racing fans with the opportunity to give something back to the athletes that provide so many thrills.

Since its inception, HERO has funded projects that have helped horsemen and veterinarians gain valuable insight into the care and safety not only of horses that provide exciting performances at the racetrack, but of backyard ponies, cutting horses and others competing in the show and rodeo arenas.

Every year HERO reviews proposals from researchers nationwide before making its grants: all have a common goal of helping our equine athletes live longer, healthier and productive lives.

"LOPE Texas' efforts in helping retired racehorses find new owners and careers have been impressive," said Mary Ellen Conway, president of HERO. "Under the direction of Lynn Rorke, LOPE Texas continues to make great strides in helping to place racehorses with loving caregivers and assisting all equine athletes. The board of HERO felt that funding this new surgical program will help the program transition an even higher number of these fabulous athletes into productive careers."

LOPE Texas is a 501(c)(3) nonprofit devoted to providing new careers for retiring ex-racehorses of all breeds in Texas. It does this through its online services and its ranch adoption center near Austin. Since 2003, LOPE has transitioned over 425 Texas ex-racehorses into new homes.

"We are very excited to start a surgery fund for the ex-racehorses here at the ranch," said Lynn Rorke, LOPE's founder and executive director. "We often receive horses that need simple chip removal surgeries. Now, thanks to HERO, these horses can receive the surgery they need and also have a much better chance of adoption."

For more information, visit the LOPE Texas website at www.lopetx.org or contact LOPE Executive Director Lynn Rorke, at lynn@lopetx.org or 512.565.1824.