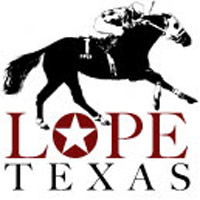 LOPE Texas' Holiday Online Auction Underway
The LOPE Texas Holiday Online Auction opened Wednesday, December 17 and continues through Monday, December 29 at 9:00 p.m. Central. The auction includes stallion seasons to prominent Texas racehorse stallions Tinner's Way, Special Rate, Lil's Lad, True Cause, show horse stallion Tawakoni, and a number of other items such as artwork, photography training, dressage training, and a bridle.
Click here to find a complete description of auction items and rules. You can place your bids directly through the website.
All proceeds directly support LOPE Texas, a 501(c)(3) nonprofit devoted to providing new careers for retiring ex-racehorses of all breeds in Texas. It does this through its popular website (www.lopetx.org) and a ranch adoption and rehabilitation center near Austin, Texas. Since 2003, LOPE has helped over 585 Texas ex-racehorses transition into new homes after their racing careers ended.
For more information about LOPE Texas, contact LOPE Executive Director Lynn Reardon, at lynn@lopetx.org or (512) 565-1824.