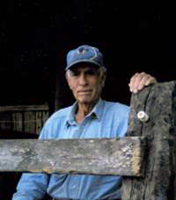 Longtime Texas Horseman James Harris Passes Away
Longtime Texas horseman James Vernon Harris passed away peacefully in his sleep early Saturday morning, April 18th, at the age of 84. James was born May 14th, 1924 on his family's farm in rural Corpus Christi, Texas. As a young boy he rose before daylight every morning to do his chores which included milking the cows. One of his favorite memories was of the day his Daddy came home with a pony for him from a neighboring farm. He had admired that pony every weekend when the family would make the trip into Corpus for the day. He attended school in the London community and was a graduate of Corpus Christi High School. When he turned eighteen he was ready to sign up with the Navy, but his Mother made him wait to enlist until December of 1942. This delay meant that he would be part of a flight preparation group that received extensive training in Austin, Kerrville, Georgia, Michigan and then back to Corpus Christi NAS. During that time he earned his wings, was specially trained to be a torpedo bomber, and went on to have over forty aircraft carrier landings. As the war ended, he signed on for a shakedown tour on the new USS FDR carrier.
After his Navy service he briefly attended Oklahoma A & M and when he returned to Texas he moved to the Rio Grande Valley to work as a cropduster and begin his own farming business. He soon married his wife of over sixty years, Joe Beth London, on July 3rd, 1948 and they were a part of the Rio Farms program in Monte Alto. In the 1950's they had two daughters , Linda and Trudy. James farmed for over fifty years in the Monte Alto and Edcouch area. He was a good husband and provider, a loving, kind-hearted father and a friend to many. He had a great sense of humor and a way with funny one-liner jokes.
James had a lifelong love of horses, cats and dogs and liked to say he never met a dog he didn't like. In the late 1960's he began a deep interest in horse training and breeding. In the early days, he raced his Quarter Horses in Beeville, Goliad, Skidmore, Bandera and Columbus as well as in the Valley at Las Palmas Downs. In later years, with his good friend, Ricardo Vallejo, he raced at Retama Park,Manor Downs, Fredericksburg, Houston, and Dallas. He loved all his horses, but some favorites included DaddyCat, Molly-O, Miss Umatilla, Mito-Mite, and Heza-Shaker.
He was preceded in death by his parents, George Harris and Mary Sims Harris Camp; sister, Loraine Crump; and daughter, Linda Cagle-Currie. He was deeply loved and will be greatly missed by those he is survived by including his wife, Beth Harris; daughter Trudy (Don) Kampa; grandaughter Julie Kampa; also grandaughters Christina Kretschmar, Cheryl Rister (Brian) ; grandson Ryan Cagle; beautiful great-grandaughters Abby and Emma Rister.
As a young schoolboy he memorized and could still recite two of his favorite poems: Trees by Joyce Kilmer, and an excerpt from Thanatopsis by William Cullen Bryant which inspired him regarding the end of our earthly lives: . . . . "where each shall take his chamber in the silent halls of death, thou go not, like the quarry-slave at night, scourged to his dungeon, but sustained and soothed by an unfaltering trust, approach thy grave like one who wraps the drapery of his couch about him, and lies down to pleasant dreams."
The family wishes to thank the staff of Texas Healthcare Solutions, Pat Long of A Long Stay Retirement Community and staff, including Linda, Chuck, Francisco, Margarita, Renee, and Maria. Special gratitude goes out to loving caregivers Marie, Hector and Virginia. Also appreciation to Aunt Carol Hester and Bobby Wilson, H.E.B. Pharmacy and management, Dr. Terry Grover and staff and Dr. Carlos Diaz and staff, all of Boerne. In the Valley we wish to thank Ben and Barbara Rowland and family, Alberto Flores, Ricardo Vallejo and family, and John Sharp.
James requested that there be no funeral services. However, a casual gathering in his honor will be held in Boerne at A Long Stay at 137 Old San Antonio Rd. on Saturday, April 25 from 1:00-3:30 p.m.
In lieu of flowers, charitable donations may be made to Boerne Hill Country Animal League, First United Methodist Church Boerne- Gospel Cafe, or the Parkinson's Disease Foundation.