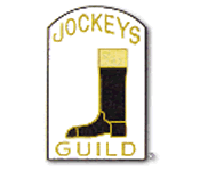 Jockey's Guild Signs New Three-Year Contract
The Board of Directors of the Jockey's Guild recently announced the creation of a new three-year management and consulting contract with Matrix Capital Associates, Inc. Located in Monrovia, California, Matrix Capital Associates, Inc. is an international business and management consulting firm with clients in Asia, Europe, and North America.
"As a demonstration of our confidence and as a show of appreciation for the hard work Dr. Gertmenian and his staff have shown, the Board has signed a new three year contract which extends through March 2006," said Tomey Jean Swan, Chairman of the Board for the Jockeys' Guild. "During past two years, Dr. Gertmenian and the Matrix staff have set in-place a road map of the Guild's future and its increasing importance in the industry."

Hired in June 2001, Matrix Capital Associates is credited with the financial turnaround of the Guild, as well as, re-establishing its family group health insurance plan, increasing active membership by over sixty-five percent (65%), creating the Disabled Jockeys' Endowment, and developing an annual fundraising event in conjunction with Churchill Downs, Inc.

"We are delighted to be working for the Jockeys' Guild. The first two years of our relationship has presented many challenges and successes. As we continue down the path of reorganization, I know we will be able to achieve the goals set forth in December (at the Guild's Annual Assembly)," said Gertmenian.
Jockeys' Guild, Inc. is a nonprofit national collective bargaining organization for Thoroughbred and Quarter Horse professional jockeys. Founded in 1940, the Guild promotes, protects, and serves the welfare and prestige of the American professional jockey community with integrity, equity, and justice.