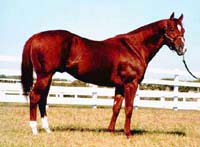 Texas Horse Racing Hall of Fame Announces 2001 Inductees And Gala
The Texas Horse Racing Hall of Fame has announced its 2001 inductees. This year's new members include Clarence Scharbauer, Joe Straus Sr., Colonel W.T. Waggoner, Emerson F. Woodward, Groovy and Special Effort. The inductees will be honored at a gala at Retama Park on October 6.
Clarence Scharbauer has left his mark on both Thoroughbred and Quarter Horse racing as the owner of five Quarter Horse champions and Hall of Fame Thoroughbred Alysheba. Scharbauer's family owned 1959 Kentucky Derby (Gr. I) winner Tomy Lee*, and he followed in those footsteps when Alysheba won that historic race in 1986 in the colors of his wife, Dorothy. Alysheba went on to win that year's Preakness Stakes (Gr. I) and earn an Eclipse Award as the year's Champion 3-Year-Old Male. The following season, Alysheba won a slew of major stakes, culminating in his victory in the Breeders' Cup Classic (Gr. I). He was named 1987 Horse of the Year and retired as the world's richest racehorse. Scharbauer's impact on the Texas racing industry goes far beyond the success of his runners on the track, however. He is a past president of the American Quarter Horse Association (AQHA) and a member of that organization's Hall of Fame.
Owner of Straus Medina Ranch, Joe Straus Sr. is another inductee whose impact on the Texas racing and breeding industry cannot be measured merely by his success on the racetrack. Straus was one of the driving forces in the effort to get pari-mutuel wagering returned to Texas, and his considerable influence and skills have proven an invaluable asset to the Texas racing industry time and again. Straus, a consummate horsemen, has bred and raced a number of graded stakes winners. Among those horses is No Le Hace, that finished second behind Riva Ridge in the 1972 Kentucky Derby (Gr. I) and Preakness Stakes (Gr. I).
A pioneer of the Texas racing industry during the first half of the twentieth century, Colonel W.T. Waggoner was a rancher, horsemen and entrepreneur who chose a spot between Dallas and Fort Worth to build Arlington Downs. After using his influence to help pass pari-mutuel legislation in 1933, Waggoner developed Arlington Downs into one of the premier racetracks in the country. Attendance at the racetrack frequently hovered around 25,000 at Arlington Downs on Saturdays as the track's purses sometimes exceeded even the purses in New York.
Emerson F. Woodward made a big splash on the racing scene in the late 1930s and early 1940s, sending more horses to the track than any other man during that time period. Racing horses at most of the major tracks around the country, Woodward's top runners included 1940 Champion 2-Year-Old Filly and 1941 Kentucky Oaks winner Valdina Myth, 1942 Kentucky Derby third place finisher Valdina Orphan, and Rounder, that he imported from Europe. Rounder's became the only horse to ever outrun 1941 Triple Crown winner and Horse of the Year Whirlaway in wire-to-wire fashion. Woodward prepared his horses to go to the various tracks at his own Valdina Farms, which straddled Uvalde and Median Counties. He had his own training barns, stables, stud paddock, jockeys and trainers. Unfortunately, Woodward and his wife, Bessie A. McGarry, were killed as the result of a train/car accident near D'Hanis, Texas, in May of 1943.
Groovy, Texas' all-time leading earner, was voted an Eclipse Award as the nation's champion sprinter as a 4-year-old in 1987. Owned and campaigned by Marshall and Mickey Robinson of Fort Worth, Texas, Groovy's championship campaign included six triumphs in seven starts. Groovy annexed that season's Vosburgh Stakes (Gr. I), True North Handicap (Gr. II), Tom Fool Stakes (Gr. II), Forego Handicap (Gr. II) and Roseben Handicap (Gr. II). His only defeat was a second place finish in the Breeders' Cup Sprint (Gr. I). He was a multiple Grade One-placed stakes winner at two and he was a multiple graded stakes winner at three before blossoming into the nation's leading sprinter at four. Groovy, a son of Norcliffe and the Restless Wind mare Tinnitus, retired with earnings of $1,346,956. He currently stands stud at WinStar Farm in Versailles, Kentucky.
Special Effort is considered by many to be one of the fastest Quarter Horses to ever race. His record at the track bears that out as he won 13 of 15 races and still holds the distinction of being the only horse to ever win the two-year-old Triple Crown at Ruidoso Downs (All-American, Rainbow and Kansas Futurities), which he did in 1981. That season, Special Effort was named World Champion, Champion 2-Year-Old and Champion 2-Year-Old Colt. The following year, Special Effort was named Champion 3-Year-Old Colt after a campaign that included a victory in the Kansas Derby. The son of Raise Your Glass (TB) and the Double Devil mare Go Effortlessly retired to stud with career earnings of $1,219,948. The sire of over 60 stakes winners, 7 champions, and the earners of over $17 million to date, Special Effort stands at 6666 Ranch in Guthrie, Texas.
These 2001 inductees into the Texas Horse Racing Hall of Fame will be honored at a gala at Retama Park on October 6. There will be a cocktail/auction item preview party beginning at 4:00 p.m., and the dinner, auction and ceremonies will follow. Post time for the first of the Hall of Fame races at Retama Park that evening will be 6:45 p.m. Tickets for the gala will be $100.00 per person. Further information will be posted as it becomes available.
The THP allowed site visitors to vote on which six of this year's Texas Horse Racing Hall of Fame nominees should be inducted, and it is interesting to note that the choices were somewhat different from those being inducted. Online voters at the THP site selected: Dr. Charles W. Graham, Groovy, Special Effort, Will Farish, Nelson Bunker Hunt, Three Oh's.