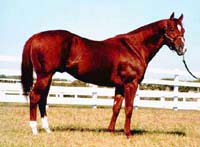 $25,000 Raised At Texas Horse Racing Hall of Fame Gala
The Texas Horse Racing Hall of Fame held its annual gala and induction ceremony at Retama Park on Saturday, October 6. Through ticket sales, donations and live and silent auctions, the gala raised $25,000. That $25,000 will go with a total of approximately $400,000 in pledges and donations already raised toward the construction of a permanent facility for the Texas Horse Racing Hall of Fame. Texas Horse Racing Hall of Fame Executive Director Jo Ann Weber estimates tat the total cost of building the Hall of Fame and its exhibits will be in the $2 million range. The museum will be built on the grounds of Retama Park.
Six new members were inducted into the Texas Horse Racing Hall of Fame at the gala. The four human inductees were Clarence Scharbauer, Joe Straus Sr., Colonel W.T. Waggoner, and Emerson F. Woodward. The equine inductees were 1987 Eclipse Award-winning Champion Sprinter Groovy (a Thoroughbred) and 1981 Quarter Horse World Champion and top sire Special Effort.
In other Retama Park news, Susan Rundell was recently named the track's director of marketing and publicity, replacing Doug Vair. Rundell has extensive experience in sales and marketing, and she was most recently an assistant brand manager for Dell Corporation.