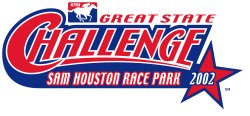 Logo Unveiled for December 7 NTRA Great State Challenge at SHRP
The National Thoroughbred Racing Association (NTRA) recently released the official logos for the inaugural six-race, $1.5 million NTRA Great State Challenge, to be run at Sam Houston Race Park, in Houston, Texas, on Saturday, December 7, 2002. The NTRA Great State Challenge national and event logos will be used by media covering the event and will appear in NTRA Great State Challenge advertising, promotions and on officially licensed merchandise. The NTRA and Sam Houston Race Park will also utilize it on all event-related materials.
The official NTRA Great State Challenge logos, designed by Phoenix Design Works in New York City, feature stylized script lettering of "Great State Challenge" in red, white and blue. "The logos have a distinctly patriotic feel to them," said Keith Chamblin, senior vice president-industry relations and marketing for the NTRA. "We think these eye-catching marks will help effectively brand this exciting new day on the racing calendar."
John Deere is the presenting sponsor of the NTRA Great State Challenge as part of a new strategic marketing alliance that includes title sponsorship of the $2 million Breeders' Cup Turf - now known as the John Deere Breeders' Cup Turf - and of the associated divisional turf races that lead up to the Breeders' Cup World Thoroughbred Championships on October 26 at Arlington Park in Chicago.
Modeled on the Breeders' Cup World Thoroughbred Championships, the Challenge races are limited to horses from jurisdictions where the official state horsemen's association is an NTRA member. The top eight NTRA-member horsemen's associations - California, Florida, Illinois, Kentucky, Maryland, New Jersey, New York and Texas, based on current dues - are guaranteed one horse in each race. The state with the overall best performance in the Challenge will receive a trophy. Points will be allocated for each race, with the NTRA Great State Challenge Champion being the top point-holder.
The NTRA and Breeders' Cup Limited will fund a guaranteed purse of $150,000 for each race, plus $50,000 in purses for Breeders' Cup-nominated horses. An additional $50,000 comes from each participating state's breeders' fund, to be paid to each individual state-bred horse that finishes in an awarded position, making each race worth as much as $250,000.
The races are:
NTRA Great State Challenge Juvenile Fillies, 7 furlongs on the dirt for two-year-olds fillies
NTRA Great State Challenge Juvenile, 7 furlongs on the dirt for two-year-old colts and geldings
NTRA Great State Challenge Sprint, 6 furlongs on the dirt for three-year-olds and older
NTRA Great State Challenge Turf, 9 furlongs on the turf for three-year-olds and older
NTRA Great State Challenge Distaff, 8.5 furlongs on the dirt for three-year-olds and older, fillies and mares
NTRA Great State Challenge Classic, 9 furlongs on the dirt for three-year-olds and older