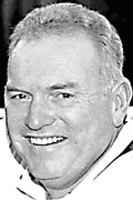 Obituary: Gary Black
Heaven became a livelier place on Wednesday, June 20, 2007, as Gary Bryan Black entered his eternal home. He was surrounded by his loving family and many friends. A celebration of Gary's very special life was on Saturday, June 23, at Wall Brethren Church with burial in Lawnhaven Memorial Gardens.
Gary was born Sept. 7, 1946, in San Angelo to Margaret and Ed Black. Gary attended San Angelo schools where he made lifelong friends and graduated from San Angelo Central High School in 1964. He attended Angelo State University but joined the service before earning a degree. He served in the United States Navy during the Vietnam era. Gary was a very proud veteran. After returning from the Navy, Gary completed his studies and earned a degree in secondary education. This degree later allowed Gary to touch the lives of many young people who respected and loved him for the gifts he shared with them.
Gary married Peggy Lynn Simcik on Feb. 21, 1982, and they recently celebrated their 25th anniversary. This union blessed them with two beautiful children, Shauna and Bryan, who were the joy of Gary's life. He adored them and busted with pride in every step of their life. He enjoyed every moment with them, often joking that he should paint his vehicle yellow as a taxi.
Gary's first teaching job was in Nixon, Texas, but he changed professions that involved his love for horses. Gary and Peggy lived their early married years in Brady, where Gary trained and raced horses. Gary developed many special friendships at this time that remain strong to this day. They then moved to Weatherford, Texas, where Gary continued to work with horses and developed more lasting relationships. While in Weatherford, Gary was involved with the activities of his children and was a member of the First Baptist Church in Aledo.
In 1996, the family moved back to San Angelo, where Gary remained active in his children's lives and their friends' lives by coaching and being a second dad to many. Gary resumed his teaching career and truly touched more lives than anyone will ever know. He taught at Fairview, Lee Junior High and since 2000 at San Angelo Central High School. At Central he was a teacher for marketing education fostering confidence and skills allowing young people to become responsible citizens. Gary was known to his students as the Cookie Man.
Gary was a dedicated member of the Wall Brethren Church, where he served on many committees as well as the board of elders.
Gary loved the outdoors and took every opportunity to share himself with others. Some of Gary's favorite outdoor times were fishing with Bryan, attending the boat races, coaching the kids' sports, barbecuing, enjoying simple times with his friends, hunting quail and working with his bird dogs. He loved life fully and was a walking party. He shared his love with others openly and unconditionally. Gary would do anything for anyone and had a very generous spirit. We will miss our precious husband, father, son, brother, uncle, brother-in-law, coach, mentor, peacemaker, teacher, Buana, G Dog, GB, Cookie Man and friend. Gary was the best friend many people ever had and was famous for giving his friends special nicknames.
Gary is survived by his loving wife, Peggy Simcik Black; daughter Shauna Simcik Black; and son Bryan Clifton Black. Other survivors include his mother, Margaret Bryan Black of San Angelo; his father, Ed Black of San Angelo; sisters Elaine Storm of San Angelo and Jan Hanna and husband Roger of Weatherford; sisters-in-law and brothers-in-law Nancy and Shawn Oliver of San Saba, Kathy and Mike Varnadore, Cindy and Roy Martin, and Bill and Janet Holland of San Angelo; as well as many cousins, nieces and nephews, great-nieces and nephews and a host of friends.
The family wishes to express appreciation for all the love and support they have received during Gary's illness. Your outpouring of love sustained them through Gary's courageous battle with cancer. A special thanks is offered to John Young and Ken Whitley for their friendship during the past school year.
The family requested that memorials be made to the Wall Brethren Church or a charity of your choice.
Pallbearers were Roy Martin, Mike Varnadore, Bill Holland, Shawn Oliver, Roger Hanna, Nathan Storm, Grant Huling, Garrett Huling and Wade Martin.
Honorary pallbearers were the many special friends that were Gary's "partners in crime." Gary loved life, lived life and made life better for everyone.