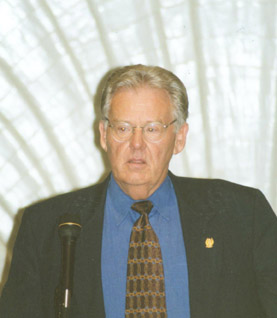 National HBPA Unveils Proposed National Drug Testing And Therapeutic Medication Policy
On Thursday, October 18, the National HBPA held a press conference at Keeneland Racecourse in Lexington, Kentucky, to unveil a proposed national drug testing and therapeutic medication policy. The proposed policy is intended to stimulate discussions throughout the industry in the hopes of eventually leading to a widely accepted and adopted national drug testing and therapeutic medication policy. Below is the text from the press release regarding the proposed policy sent out from the National HBPA to the media:
---
Heeding the call from its members and key industry leaders, the National Horsemen's Benevolent and Protective Association (NHBPA) today unveiled a proposed national policy on drug testing and therapeutic medication for Association of Racing Commissioners International (ACRI) class 1, 2 and 3 foreign substances.
The proposed policies are based on the premise that uniform testing standards would provide an even "playing field" for all racing industry participants, enable the racing industry to regulate itself more effectively and, most importantly, enhance its image and integrity in the eyes of the public at large.
In development since the NHBPA summer convention in August, the proposal has been crafted in consultation with leading academic analysts, veterinarians and equine practitioners. It draws on existing research, including the McKinsey Report (1991), the National Thoroughbred Racing Association Drug Testing Task Force Report (2001), the ARCI Foreign Substances Classification System and Policies, and over 20 years of experience and data from Canada.
The proposal draws on policies already in place in a number of U. S. jurisdictions including: California, Louisiana, New Mexico, Ohio, Washington and international jurisdictions including Canada. Specific regulatory limits have been based on published scientific research, significant portions of which were supported by the NHBPA and its affiliate members over the years. The proposed policies can be summarized as follows:
ZERO TOLERANCE for performance altering drugs and foreign substances that have no legitimate use in horses in training or racing.
REGULATORY LIMITS for foreign substances recognized by the American Association of Equine Practitioners (AAEP) as therapeutic medications for the horse. The proposed regulatory limits are based on published scientific research and/or regulatory limits already adopted by one or more racing jurisdictions. Regulatory limits are proposed for the following: acepromazine, albuterol, bupivacaine, butorphanol, clenbuterol, lidocaine, mepivacaine, pentazocine, procaine, promazine, pyrilamine, and tertbutaline.
DIETARY AND ENVIRONMENTAL SUBSTANCES. Regulatory limits are also proposed for three dietary and environmental substances that are also ARCI class 1 or 2 foreign substances, namely benzoylecgonine, caffeine and morphine.
SALIX (LASIX). Application of these proposed regulatory limits for drugs and other foreign substances in urine requires that Salix (Lasix) administration is controlled such that urinary dilution does not intervene with testing.
GUIDELINES are proposed for the reporting of chemical identifications, their quantitative determination and independent analysis, with an emphasis on the importance of expert professional review.
RESEARCH. The continuing development of new performance-altering drugs and foreign substances, therapeutic medications, and analytical technologies means that the specifics of this proposed policy will evolve with time. More regulatory limits for therapeutic medications and dietary/environmental substances are required. Additionally, the role of blood testing is expected to increase in coming years.
THE AMERICAN ASSOCATION OF EQUINE PRACTITIONERS (AAEP). The proposal specifically recognizes the role of the AAEP in identifying therapeutic medications, and appropriate dosage schedules for these agents.
Founded in 1940 on the principle of "Horsemen Helping Horsemen," the NHBPA includes 33 affiliates and over 35,000 member owners and trainers across North America and has long been focused on the betterment of racing at all levels. The Texas Horsemen's Partnership is an affiliate member of the National HBPA.