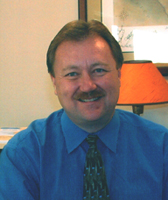 Magna Entertainment Corp. Names Johnsen President of MEC Operations in the Southwest
On August 14, Magna Entertainment Corp. (MEC) announced that Corey Johnsen has been named the President of MEC Operations in the Southwest, as announced by MEC Chairman, Frank Stronach. In that role, Johnsen will be responsible for Lone Star Park and Remington Park and all MEC governmental activities in Texas and Oklahoma, as well as the operating agreement with Maroñas, the national racetrack of Uruguay.
"Corey has been with MEC since 2002 and has a great passion for horse racing," said Stronach. "In his new position, he will be able to maximize the MEC resources in the southwest, working with the existing General Managers Drew Shubeck at Lone Star Park and Scott Wells at Remington Park."
Johnsen is currently the President of Lone Star Park and will have that same role at Remington Park. A 30-year veteran of the horse racing industry, Johnsen is the President of the Thoroughbred Racing Associations, an industry trade organization which represents a majority of race tracks in North America. During his career, Johnsen has worked at Lone Star Park, Remington Park, Louisiana Downs, Arlington Park and Turf Paradise.