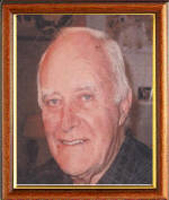 Veteran Trainer Charles Werstler Passes Away
Charles R. (Chuck) Werstler, 87, the longtime trainer for Mary V. Fisher's Dixiana Stable in Lexington, Kentucky, passed away on April 5 in Hermitage, Tennessee. For many years a resident of Miami Springs, Florida, he retired to the suburb of Nashville in 2001. Werstler was the father of Texas Quarter Horse Association (TQHA) Director of Race Rob Werstler.
A native of Ohio who raced regularly in Kentucky, Florida, Illinois, and New Jersey, Werstler trained such outstanding horses as Golden Ruler, Hard Work, Big Band, Red Cross, and Ironworks.
Werstler raced at Keeneland each spring and fall for more than three decades between the 1960s and the 1990s, saddling 57 winners. He sent out Hard Work to win the 1969 Breeders' Futurity and Ironworks to win the 1981 Fayette Handicap. Interestingly, Ironworks carried jockey Pat Day to his first of 95 stakes victories at Keeneland.
Mr. Werstler was also a decorated WWII Army veteran and the recipient of two Bronze Stars. He was a member of Miami Springs Presbyterian Church and attended Cloyds Cumberland Presbyterian Church in Mt. Juliet, TN.
Mr. Werstler was the son of the late, Robert Benjamin and Nellie Wise Werstler. He was also preceded in death by his wife, Shirley Ann Owens Werstler on February 10, 2007. His survivors include children, Lindalee (David) Buckholts of Mt. Juliet, Tennessee, Rob Werstler of Austin, Texas; sister, Maxine Daily of Greentown, Ohio; and several grandchildren.
There will be a memorial service at 7:00 p.m. April 9 at Bond Memorial Chapel, Mt. Juliet, TN. Visitation is from 5:00 -7:00 p.m. on April 9.
Memorials may be made to Cloyds Cumberland Presbyterian Church, 595 W. Division St., Mt. Juliet, TN 37122, Phone: (615) 758-7434.