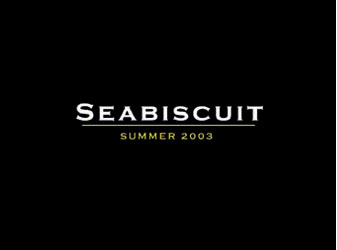 Bob Douglas Wins Two Tickets To Advanced Screening of "Seabiscuit" in San Antonio
Bob Douglas of San Antonio, Texas, has been declared the winner two tickets for an advanced screening of the major motion picture "Seabiscuit" at the Regal Alamo Quarry 14 theater in San Antonio on Thursday, July 24 at 7:00 p.m. On Monday, July 14, Douglas' name was chosen by random drawing from the entries received via e-mail through the Texas Horsemen's Partnership's website.
Douglas is best known in racing circles as the owner of top Quarter Horse stallion Jody O'Toole, which has sired several outstanding runners including multiple Grade One winner Gol. Douglas stands Jody O'Toole at Dr. Charles W. Graham's Southwest Stallion Station in Elgin, Texas.
Starring Tobey Macguire, Jeff Bridges, Chris Cooper, William H. Macy, and Gary Stevens, "Seabiscuit" opens in theaters around the country on Friday, July 25.