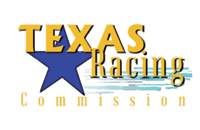 Texas Racing Commission Sets 2011 Race Dates for Texas Racetracks
(Austin, Texas - September 14, 2010) - At a meeting of the Texas Racing Commission (TxRC) today, the agency approved 2011 race dates for Texas racetracks. The dates approved matched a plan agreed upon by the Texas Horsemen's Partnership (THP), the state breed organizations (TTA, TQHA, TABA, and TPHA), and the racetracks and submitted to the TxRC last week. Under the plan, the total number of race days will be reduced in 2011, but this will allow purses to remain at their current level or, in some cases, improve over 2010 levels despite continued wagering declines in Texas.
The Gillespie County Fair in Fredericksburg was granted its requested traditional eight-day mixed meet. Live racing will be held at the Gillespie County Fairgrounds in 2011 on July 2, 3, 16, and 17 and August 13, 14, 27, and 28. Racing will be 60 percent Quarter Horses and 40 percent Thoroughbreds.
Lone Star Park at Grand Prairie was granted a 52-day Thoroughbred meet that will run from April 14 to July 10, 2011 and a 26-day Quarter Horse meet that will run from September 16 through November 12, 2011. The Thoroughbred meet will be eight days shorter than the 2010 meet, and the Quarter Horse meet will be three days shorter. Purses at the Thoroughbred meet are expected to average approximately $170,000 per day, while the Quarter Horse meet purses are expected to average approximately $60,000 per day.
Retama Park near San Antonio was granted a single, three-part 45-day meet for 2011 that will run from July 1 through October 15. The first part of the meet, from July 1 through 28, will consist of only Quarter Horse racing and is expected to average $60,000 per day in purses. The second part will be a mixed breed period from July 29 through August 27, with a daily split of six or seven Quarter Horse races for daily purses of $40,000-$46,000 and three to four Thoroughbred races for daily purses of $27,000-$36,000. The final portion of the meet, from September 1 through October 15, will consist of Thoroughbred racing with estimated average daily purses of $80,000.
For 2010, Retama Park was granted 30 days of Thoroughbred racing, which was later amended to 16 days. Retama Park held no Quarter Horse or mixed breed meets during 2010.
In order for Retama's meet to achieve the aforementioned purse levels, Quarter Horse and Thoroughbred purse funds will be moved from the Manor Downs purse account to the Retama Park purse account. Manor Downs near Austin, which ceased operation in July, did not request any live race dates for 2011. However, the track did request dates for 2012, though that request was tabled by the TxRC. Manor Downs purses funds were directed towards Lone Star Park, Retama Park, and Sam Houston Race Park for 2011 to supplement their purse funds and enable each to run some additional races that otherwise would not have been possible.
Sam Houston Race Park in Houston was granted a 27-day Thoroughbred meet from January 21 through March 6, 2011, with average daily purses expected to be approximately $150,000. Additionally, Sam Houston was granted permission to drop the live Thoroughbred dates it was originally scheduled to run in November and December of 2010. At one point during negotiations, Sam Houston was planning to drop its Thoroughbred meet and send purse funds to Lone Star Park for a richer consolidated meet, but the track amended its original date request last week.
Additionally, Sam Houston was granted a 30-day Quarter Horse meet that will run from March 11 through May 16. Daily purses during the meet are expected to be approximately $52,000.
For 2010, Sam Houston was granted 61 Thoroughbred days (but without the November and December dates will race only 47 days), as compared to the 27 days granted for 2011. Sam Houston held a 45-day Quarter Horse meet this year, compared to 30 days scheduled for 2011.
"We are thrilled about this new structure for our live racing seasons," said Sam Houston Race Park President Andrea Young. "We believe the creation of a shorter Thoroughbred meet with a stronger overall purse structure will lead to substantial increases in both interest and attendance this season. One of our goals is to create a sense of urgency while also building bigger and stronger races for our horsemen as well as our racing fans. We are looking forward to 2011."
Young continued, "We wish to thank the Texas Horsemen's Partnership as well as the various breed registries for their hard work during the process of allocating race dates this year. It is no secret that this is a difficult time for racing fans in Texas. Texas racetracks and horsemen are facing intense competition from our surrounding states, all of which offer purses supplemented by slot machines at their racetracks. We feel the way we have structured this meet will give us the best shot at survival in the short term."
In all, the 2011 race dates for Texas racetracks include 100 Thoroughbred race days, 66 Quarter Horse race days, and 22 days of mixed breed racing.